The Season of Injury, Surgery, and Searching for Help
In June of 2014, just after my return from visiting Kristi in Chicago, I fell from my pull up bar and broke my big toe in the joint where it connects to the foot. I had to wear a special shoe for the next 12 weeks to make sure it healed correctly to avoid surgery. This was the start of 4 years of injury, surgery, and recovery for me. I had been running the business on my own for just 6 months at this point, and have pretty much injured or recovering since then - I'm not sure if my clients remember me in a fully functional state!
It was so fun to wear this shoe and wrap for weeks while my broken toe was healing!
It became clear after the first year of running MOVE Fitness solo that I was going to need some help if I wanted to grow the business and add time and more classes to the schedule. Being one person, there were only so many hours I could work and still be available for my family. Also, it was a challenge to take time for a vacation or other needed time off and leave my clients with no gym time.
So, I looked to add some help with running a few classes. Kristy White got her personal training certification through the American College of Exercise, and began teaching some bootcamp classes for me. She has a sunny personality and great energy, and people always have fun at her classes! In addition to becoming a great friend and sounding board for ideas, she regularly taught bootcamp classes at MOVE and Movement Evolved through December 2018. Cole Farrington was also part of the training team for the better part of a year. He shadowed and then ran sessions and classes for me, and was a great addition MOVE. He eventually ended up taking another job that was a better fit for him and his family. The help that both Kristy and Cole added was tremendous in giving me a bit of a break from the day in, day out schedule of the gym.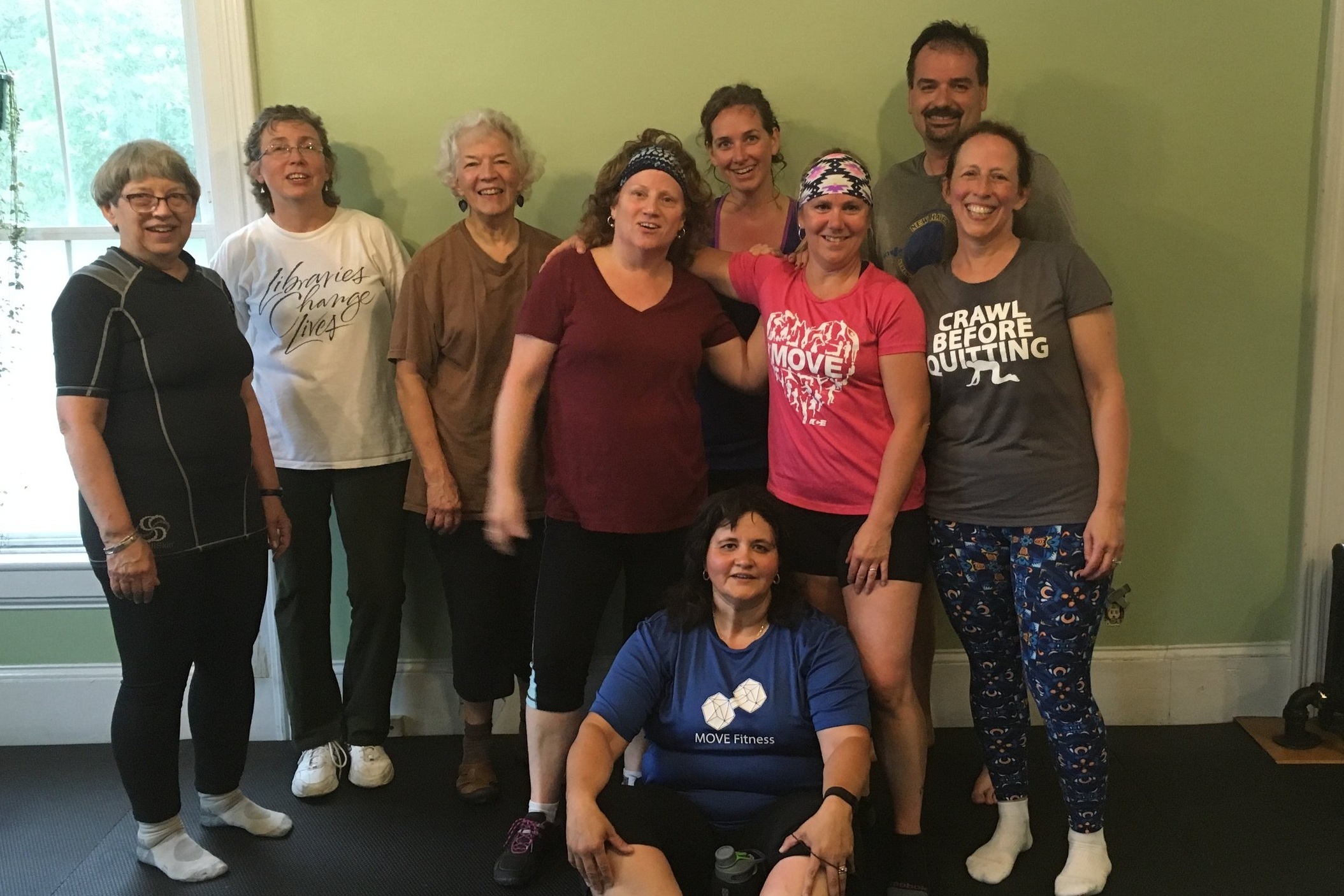 Kristy (center, in pink) has always offered great energy and fun in bootcamp classes!
"Sarah Says" - That way I always took the blame when clients didn't like a challenging workout!

In the meantime, I got a new neighbor on my hill at home in Barnard, Kim White. She and I became fast friends, and eventually started doing some workouts together. She was interested in pursuing personal training, we spent a lot of time talking about what I did at MOVE, and she eventually decided to work on getting her certification with ACSM! This was a boon for me...she started doing some shadowing at MOVE and got to know my clients, and eventually was able to fill in for me for a month when I had hip surgery in August of 2016.
Working hard on getting moving again after my hip surgery!
In the Spring of 2015, after my broken toe had healed and gotten back to feeling mostly normal, I returned to running and training for some Spartan Races I had planned for that summer - only to notice that my right hip was bothering me every time I ran or did certain strength moves. Needless to say, I tried to deal with this for a year on my own - with massage therapy, chiropractic, and my own corrective exercises - before I went to see a sports medicine doctor in May of 2016. He ordered some testing, which included an MRI that showed I had a tear in the labrum of my right hip (the ring of cartilage that holds the head of the leg bone into the hip joint) as well as a cyst in my acetabulum (hip bone). So, I saw an orthopedic surgeon and ended up with surgery on my hip to help take care of these issues - and it was a good thing I did, as it ended up being a pretty significant repair that was needing to be done, and one that will (hopefully!) help preserve my hip joint and stave off the need for a replacement. Because of the nature of the repair, I was on crutches for 6 weeks, with 6 months of physical therapy and really more than a year of recovery. With Kim and Kristy taking care of things at the gym, I was able to take close to a month off for my recovery before returning to work - and when I did, I had to get creative with how I demonstrated (or didn't demonstrate - hello YouTube!) certain exercises until I was back to a more fully functioning state. Thankfully, my wonderful clients have always been understanding and accepting of the workarounds I need to do to get the job done.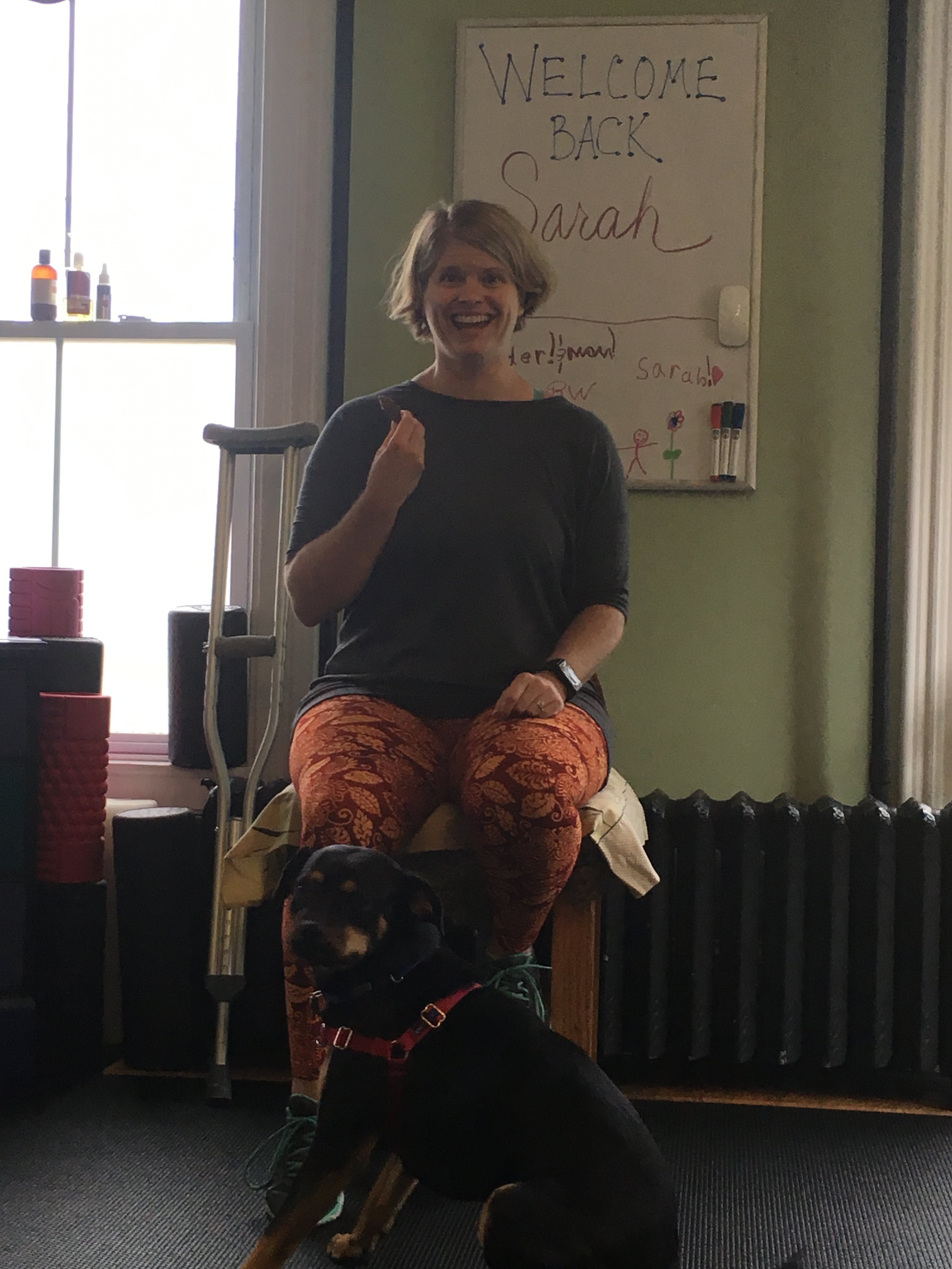 After nearly a month off from work to recover from hip surgery, I returned to the gym with the gym-rat terrier, Lila. I had a special high chair - or as my client's named it "Sarah's Queen Chair", to sit on to keep my hip in proper position.
By the time I was mostly recovered from the hip surgery, my left shoulder started acting up. It had been a problem area for me for a number of years (from back in my days at a nursing job where I did quite a bit of computer and phone work), but this flare up didn't let up. I worked through the fall of 2017 with occupational therapy and massage, but couldn't get it under control to a point where I could do the activities and strength work that is necessary for my job. So, I went back to the orthopedic surgeon and ended up having shoulder surgery in February of 2018. Once again, this led to a lengthy absence from working at the gym for my (very long and uncomfortable) recovery and rehabilitation. Thankfully, again Kim was able to take over those duties for me and keep sessions running for my clients, along with the continued help of Kristy - and we even had some help this time from a third trainer - Kristen Gage! As it turns out, both Kim and Kristen would soon play a big role in what the future held for MOVE Fitness.
Here I am, just a few hours after shoulder surgery on 2/15/18 - little did I know how long the road to full recovery would be…now, nearly a year later, I am thankful I had the surgery and am pleased with the progress I have made, but it has been quite a journey!
My time dealing with multiple injuries, surgeries and recoveries has given me plenty of appreciation for what that experience entails. It has taught me how to work through injuries, work around injuries and just keep moving. So, when clients have physical issues that they are dealing with or recovering from, I am better equipped to understand what they are going through and have the knowledge and experience to keep them moving - a body in motion stays in motion! My clients know that I will ALWAYS find something for them to do to stay active and strong, so there's hardly ever a reason to miss a workout!!
Here I am, joking about my "bulging bicep" a couple of months after surgery. After nearly a year of recovery, my strength is still not back to what it was prior to the injury and surgery - but I'm working on getting it there!

I am also immensely thankful for the amazing help offered and given my by wonderful clients (many of whom are now more like family and friends than just clients, after more than 5 years working together) in the form of rides, meals, and emotional support during those challenging times - my family and I will forever be grateful for it all!

Stay tuned for the next installment, where I explore finding a new and bigger space as well as going from a solo business woman to a three woman partnership!